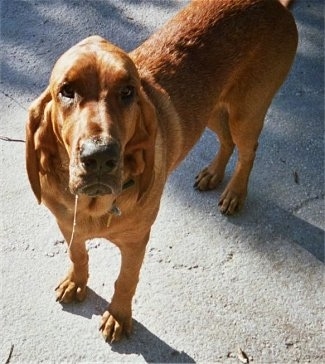 Why do dogs drool? Drooling can be normal in some dogs, especially some breeds such as Bloodhounds, Mastiff, Great Danes or Basset Hounds.
Excessive drooling can occur in any dog and can be caused by a variety of reasons. Some dogs are droolers due to the structure of their mouth. The loose skin around their jaw line causes drool leakage.
Other dogs drool from excitement especially around food, the scent of food or even the thought of food. Since Xena was a puppy, the excitement of going to the dog park can cause her to be so excited she literally foams at the mouth.
If your dog is a natural drooler, you may have to keep a roll of paper towels handy. Dog drool, especially on hard flooring, can be a slipping hazard! If he is a food-induced drooler, you may want to feed him outside.
Other dogs will drool if they are nauseated or have an oral abnormality such as a dental problem or something caught in their mouths.
If your dog is a born drooler, try placing an absorbent bib or bandana around his neck with the point in the front. It will collect some of the drool that would otherwise fall onto his chest. We like using the thinner cotton dishtowels, the more absorbent the better.
Understand that while excessive drooling is likely benign, it may be a symptom of several more serious conditions, including poisoning, stomach problems or even paralysis of the tongue caused by rabies (which of course can be avoided if you keep your dog protected with a rabies vaccine.)
Again,
your vet
is the best person to diagnose any symptoms in dogs.
All the Best,
Mary Cacciapaglia ( catch-a-pal-ya)
Paws First Choice - Dog Training & Pet Photography
(805) 982-0482
My profiles: